Reservations are suggested.

Check-in 3pm
Check-out 11am

Please call to inquire
about RV site rates.

Lodging 45 miles from Bozeman
Lodging 79 miles from West Yellowstone
Lodging 18 miles from Virginia City
Lodging & Things To Do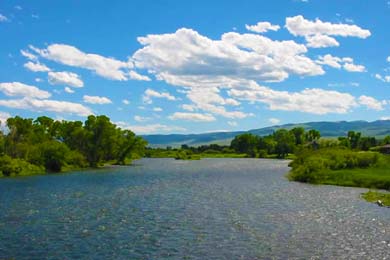 For a fishing, hunting, or a back-to-nature vacation with lodging that's close to Bozeman, and Yellowstone National Park, you'll find what you're looking for at Riverside Motel & Cabins located next to the Madison river in Ennis, Montana.

You'll enjoy the comfort we offer and our location is perfect for all the exciting things to do in this beautiful area. We are just 14 miles from Historic Virginia City and Nevada City. Explore the ghost towns of Virginia City and Bannock (the original capital of Montana); the history of the Gold rush; the Museum in Ennis with it's unique local history. We know your vacation here will be exciting and memorable and that you'll want to come back again!


Our Amenities
Fully Equipped Cabins:
Microwaves
Mini refrigerators
Coffee makers with complimentary coffee
Full kitchens with utensils
RV sites
Free Wireless Internet
Queen and twin beds in one cabin
There is convenient shopping nearby for food, recreational supplies, and souvenirs to take home with you. Call today to talk to one of our reservation agents and we'll be glad to answer any questions you have and get you set up with the just right amenities for your stay.


Reservation Information: